My mom's visit is over. She was here for three weeks and the time flew by so fast. But in those three weeks, Ladybug (2.5 years old) seemed to grow up before our eyes. She is now speaking in full sentences. Her vocabulary grew by about fifty words. She learned to be okay with touching play dough.
Grammy and Ladybug were constant companions, and now Ladybug keeps asking for Grammy. It makes me sad that my mom lives so far away (or I should say, we live so far away since she still lives where I grew up). But it makes me happy to see my mom and my daughter forming such a strong bond.
Grammy took this wonderful picture a day or so before leaving and I think that it captures the big girl who is starting to emerge from our baby. She's growing up, and there isn't anything we can do to stop that. But we can take a moment to pause and enjoy each moment as it comes.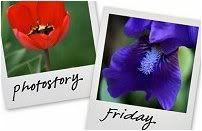 Hosted by Cecily and

Emily